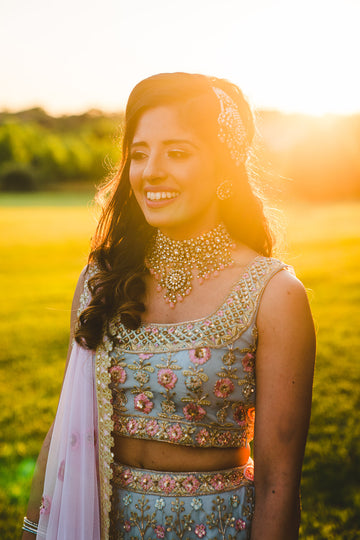 GROWING UP IN AMERICA, SOUTH ASIAN CLOTHING WASN'T EASILY ACCESSIBLE.
When we shopped for South Asian traditional clothing, the style and trends popular in the states were different from what they were in India. Access was limited. We at Anis Collections are attempting to change that, and make South Asian clothing approachable and accessible for everyone. We would love to say that Anis Collections was a brand we've been working towards for years.
 The truth is, it became a solution for Hani - an Indian American girl who found it near impossible to get what she wanted out of South Asian clothing. Clothing in the states was out of date, and the shopping experience in India wasn't always pleasant. Endless questions, and the inability to find the right fit and size.  Hani tried it all. Thus came the idea for Anis Collections. 
How can you work with us to custom create your dream outfit? Read on below!
STEP 1 - VIRTUAL CONSULT
On this consultation we talk about the design of the outfit, what elements are needed and anything related to the big day that will help us put elements together.
STEP 2 - SKETCH
This requires a 10% non-refundable deposit of your budget and will take about 3 weeks to create and this will be 1-2 sketches.
STEP 3 - SWATCH
This requires and additional 10% of your deposit and will take 3 weeks post sketch approval.
STEP 4 - MEASUREMENTS AND DEPOSIT
Once both are approved we will take measurements either virtually or in person and there is a 70% deposit of the total cost.
STEP 5 - PRODUCTION
We are in production 10 - 12 weeks during which we may send you updates. We are always willing to tell you where we are in the process.
STEP 6 - FIRST FITTING / DELIVERY
The outfit comes in and we deliver it to you.